Hector Chavez, Associate Electrical Engineer
Hector joined Vista Photonics in July 2017. He is a graduate of the University of Texas, El Paso with a BS in Electrical Engineering where he focused on renewable energy, electronics and microelectronics, signal processing, and circuit design. After completing the NASA Electrostatic Discharge Level 1 course, Hector became the ESD Facilities Monitor for Vista Photonics. He is in charge of maintaining all ESD requirements to ensure compliance with ANSI/ESD and NASA standards. Hector has also completed Soldered Electrical Connections Through-Hole and Surface Mount courses to become certified in IPC and NASA standard, and holds a certification to Workmanship Standard for Crimping Interconnecting Cables, Harnesses, and wiring to NASA standard.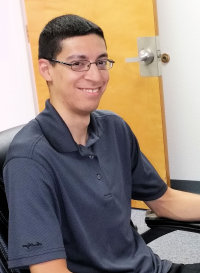 Copyright 2021 Vista Photonics, Inc. 3655 Research Dr. Las Cruces, NM 88003 All rights reserved.


J. Taylor Pilgrim, Quality System Manager
Taylor Pilgrim joined Vista Photonics in November 2017. He attended both New Mexico Junior College and Santa Fe Community College, and worked as a Field Service Technician at Comcast/Xfinity prior to joining the Company. Taylor is a member of the American Society for Quality and has received Certified Lead Auditor training and Capability Maturity Model Integration (CMMI) training. He is tasked with the obligation to ensure all company products meet customer expectations and demands using key performance indicators. He maintains our focus on customer quality improvement activities across the organization by overseeing all product development procedures to identify deviations from quality standards. Taylor performs and coordinates internal quality audits and assures appropriate levels of corrective actions. He is always on the lookout for opportunities for improvement and the development of new, efficient procedures.