Hector Chavez, Electronics Technician
Hector joined Vista Photonics in July 2017. He is a graduate of the University of Texas, El Paso with a BS in Electrical Engineering where he focused on renewable energy, electronics and microelectronics, signal processing, and circuit design. Notable projects he in which he participated include a solar powered evaporative cooler with smartphone control, EKG sensor, and a solar powered phone charger.

As the Electronics Technician, he works alongside the Research Engineers to troubleshoot electronic applications and insure that all soldering and wiring work is completed efficiently and to required standards.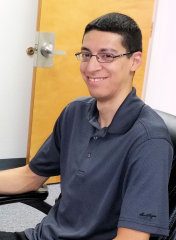 J. Taylor Pilgrim, Support Specialist
Taylor Pilgrim joined Vista Photonics in November 2017. He attended both New Mexico Junior College and Santa Fe Community College, and worked as a Field Service Technician at Comcast/Xfinity prior to joining the company. Under the direction of the management team, Taylor provides day to day administrative and technical support for the company.